The Freedoms Foundation at Valley Forge presented Thomas S. Monson, president of The Church of Jesus Christ of Latter-day Saints, with a special award during the Constitution Day Concert in Salt Lake City, Utah. The concert featured the Mormon Tabernacle Choir and Orchestra at Temple Square.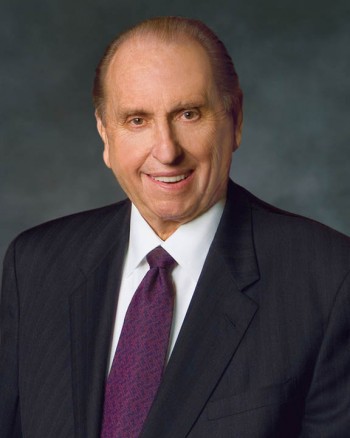 The Freedoms Foundation was founded in 1949 to teach people the principles of democracy. Although centered at Valley Forge, PA, they have chapters around the nation. Thomas S. Monson was a member of their board of directors from 1974-1978 and then served several years as a member of their National Council of Trustees.
William O. Perry, chairman of their national Board of Directors noted that President Monson continues to support the mission of the organization. He also recognized President Monson's status as a veteran at the conclusion of World War II, where he served in the Navy at age eighteen. In addition, Perry drew attention to President Monson's extensive history of service to those who are poor and in need, and particularly his concern for widows.
During a Christmas devotional in 2000, President Monson offered these thoughts on freedom:
How thankful I feel for political freedom enjoyed by most of our people throughout the world. As we look across the vast expanse of human history, how thankful we feel for the right to worship as we please, to assemble together without fear of oppression, to lift our voices in prayer to the God of the universe, to worship Him in spirit and in truth.
The precious boon of human liberty is really the product of the Savior's teaching of the dignity of man. He declared the precious nature of every individual soul. We say with the Psalmist, "Blessed is the nation whose God is the Lord" (Ps. 33:12).
I believe that human freedom and human liberty are the marvelous fruits of the doctrine of the Christ. Said Paul to the Corinthians, "Where the Spirit of the Lord is, there is liberty" (2 Cor. 3:17). (See First Presidency Christmas Devotional: "My Redeemer Lives," Thomas S. Monson, December 2000.)
Read more about Thomas S. Monson's military service.
About Terrie Lynn Bittner
The late Terrie Lynn Bittner—beloved wife, mother, grandmother, and friend—was the author of two homeschooling books and numerous articles, including several that appeared in Latter-day Saint magazines. She became a member of the Church at the age of 17 and began sharing her faith online in 1992.