Thomas Spencer Monson is the 16th and current President of The Church of Jesus Christ of Latter-day Saints. He became the President of the Church of Jesus Christ on 3 February 2008, at the age of 80. The members of the Church revere him as Prophet, Seer, and Revelator. He was sustained as an Apostle of the Lord Jesus Christ at the age of 36, being sustained to the Quorum of the Twelve Apostles on 4 October 1963. He was one of the youngest men to be called to that position. For almost 23 years he served as a counselor in the First Presidency of the Church, serving with President Ezra Taft Benson, President Howard W. Hunter, and President Gordon B. Hinckley.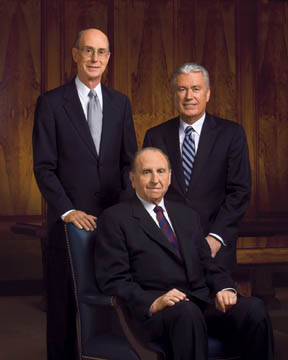 President Monson was born on 21 August 1927 in Salt Lake City, Utah, and has lived a fulfilling life. He served his country in the military for a short stint, having enlisted in the United States Navy near the conclusion of World War II, at the age of 18. After the Navy, he attended the University of Utah and graduated Cum Laude in business in 1948. Soon thereafter he began working for the Deseret News daily newspaper in Salt Lake City as an advertising executive. At the young age of 22, after his marriage to Frances Beverly Johnson, he was called to serve as the Bishop of the Sixth-Seventh Ward in Salt Lake City and faithfully attended to the temporal and spiritual needs of each of 85 widows in the ward. It was also here that he began his lifelong involvement with the Boy Scouts of America.
In 1955, he was called to serve as a counselor in the Stake Presidency of the Temple View Stake in Salt Lake City. And from 1959 to 1962, he served as President of the LDS Church's Canadian Mission, headquartered in Toronto, Ontario. After returning from Canada, he resumed work at the Deseret News, eventually becoming general manager of the Deseret News Press. He was working there at the time of his call to serve as an Apostle, in 1963. [1]
This year marks President Monson's 85th birthday, and the Church is planning to celebrate his special day with "Golden Days: A Celebration of a Life," a gala musical event which is scheduled for Friday, 17 August 2012, at 8 p.m. in the Church's Conference Center located in downtown Salt lake City, Utah. The gala will feature the Mormon Tabernacle Choir, the Orchestra at Temple Square, and other guest performers. The duties of master of ceremonies for the event will be shared by former BYU and NFL football legend Steve Young and former news anchor and author Jane Clayson Johnson.
According to the press release by the Church of Jesus Christ on Friday, 8 June 2012, the evening will "take a nostalgic look back at President Monson's illustrious life from his childhood, marriage and stint in the U.S. Navy during World War II to his decades of service (in the church)." [2]
Of this event, Steve Young said:
It is a privilege to play a small part in (this) recognition. President Monson has served other people all his life. I know he's more comfortable in that role than having any accolades focused on him. This celebration is a great way to let him know how much he is loved and appreciated. [2]
Free tickets for this event are required and will be distributed through a random selection process due to an expected high level of demand. Beginning Saturday, 16 June 2012 at 12:01 MDT, those interested in obtaining tickets will be able to register online at www.lds.org/events or via telephone at 801-570-0080 (local callers) or 1-866-537-8457 (long distance or out of state callers.) Registration for tickets will remain open until 11:59 PM MDT on Monday, 25 June 2012. Those who are selected to receive tickets will be notified by email on Thursday, 5 July 2012. Only one registration per household is permitted, and the maximum number of tickets that can be requested is four. Standby tickets will be made available the day of the event.
The program will also be shown over the LDS church satellite system on Saturday, Aug. 18, with subsequent rebroadcasts to many areas of the world. It will be rebroadcast in its entirety on BYU TV on Saturday, Aug. 18, at 7 p.m.; Sunday, Aug. 19, at 10 a.m.; and Monday Aug. 20, at 3 a.m. All times are MDT. [2]
Concerning this gala event, Jane Johnson added:
So many around the world have been influenced by President Monson's warmth, compassion and genuine love of people. We celebrate and honor his extraordinary life of service and leadership. [2]
About Keith L. Brown
Keith L. Brown is a convert to The Church of Jesus Christ of Latter-day Saints, having been born and raised Baptist. He was studying to be a Baptist minister at the time of his conversion to the LDS faith. He was baptized on 10 March 1998 in Reykjavik, Iceland while serving on active duty in the United States Navy in Keflavic, Iceland. He currently serves as the First Assistant to the High Priest Group for the Annapolis, Maryland Ward. He is a 30-year honorably retired United States Navy Veteran.