Thomas S. Monson is the president and prophet of The Church of Jesus Christ of Latter-day Saints. The role of prophet is one of the few full-time religious positions available to Mormons. (There are, of course, ordinary jobs such as secretaries to do administrative-type work.) Only the prophets and apostles, among all the church's religious leadership, work full-time. The remainder are volunteers. For instance, when Mitt Romney served as a bishop (a lay pastor) he held regular employment in his community and this supported his family. The extensive work of a bishop was all done after work and family responsibilities were met.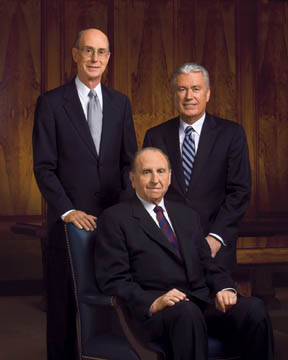 Although the prophet, his two counselors, and the twelve apostles (the counselors are also apostles) serve full-time, they do not receive a salary. This is due to biblical warnings about priestcraft—the ability to become wealthy doing the work of the Church. Since most who serve in these positions are older, they often have pensions or other sources of private income, even though they can no longer hold outside employment. Those who do not receive a modest stipend which allows them to live at a reasonable standard of living, but not to become wealthy. While most religions pay their ministers and many leaders of popular churches become wealthy, a Mormon leader can only achieve wealth prior to his call to full-time service. No matter how much money the Church makes, leaders do not personally profit from that money.
Due to privacy, the church does not reveal who is receiving financial help from the church, whether it is an ordinary church member receiving charitable assistance or a leader receiving a small stipend. Thomas S. Monson became an apostle at the age of 36, an unusually young age for such a call. (He was also an unusually young bishop.) Prior to his call, he had worked in the printing industry as the General Manager of Deseret News Press. It is possible he receives a stipend, due to how young he was when he gave up paid employment, but it's also possible his children and other relatives support him instead. He may even have savings invested that support him. How he supports himself really isn't important. However he does so, he does not receive a paycheck or a share of the money brought in by the church.
 If a stipend is given, it does not come from tithing money. Unlike many churches, which count all their businesses as part of their ministry, the Mormons operate a for-profit arm for their businesses. These businesses pay taxes at the same rate as any other businesses. They are operated under a holding company. It is the for-profit arm that provides the stipend, so that the money donated by members is not used for salaries. The prophet does not own these businesses, nor does he receive a share of the profits from them. The profits are used to fund church work, including things like salaries that must not be paid from tithing funds.
Mormons love being part of a volunteer system. It allows them to serve God entirely unselfishly. They don't accept service to gain a paycheck; they accept it entirely because they love God and want to serve Him and to be a part of His work. There are, of course, rewards that go far beyond anything a paycheck could provide.
Mormons normally don't choose their callings. When a leader of an organization needs someone to fill a position, he or she considers possible names of people she knows or who might be available. She then evaluates those names, praying for inspiration, and then chooses one. She prays to find out if this name is acceptable to God and if it is, she submits it to the bishop for approval. This is done because he knows more about the person and whether or not that person is actually available for the position. When everyone has prayed and is in agreement, the chosen person is invited to accept the call. Knowing it is from God, most Mormons will accept even if they feel unqualified for the position. Of course, if there is information he or she might have that is pertinent, such as a serious family situation requiring priority, the person will ask to have that considered.
People generally change positions every few years. This allows them to serve in a wide range of positions over the years and to gain many skills. It also improves their understanding of the organization of the church because they see it from many different viewpoints. There is no promotion, so a person might be the president of the children's Primary one week, and helping a toddler nursery leader the next and not consider it a demotion in any way. It is simply another responsibility.
The skills learned through church service often force people outside their comfort zones. A shy follower may find herself asked to lead a large women's organization. A man who doesn't feel organized might be asked to be the secretary—a position requiring extensive organizational skills. A person new to the church can be asked to teach a class, even though she will first have to learn the doctrines she will be teaching. As people accept positions they would never have volunteered for, they become more than they imagined they could be. Mormons believe God knows them perfectly and knows all they are capable of becoming. When He chooses a calling for them, He is often putting them into a situation that requires the growth needed to become the person God knows they can be.
From a practical standpoint, some church-learned skills later become job skills. A teenager who discovers she has a knack for teaching might decide to major in education. Someone invited to teach literacy may find it very rewarding and go on to major in adult literacy or decide to volunteer to teach it in the community once it is no longer her church work. Many who gain public speaking skills or leadership skills in church go on to become leaders in business or government. This too is part of God's plan to help us create the life He wants us to lead.
Mormons at all level of the Church serve God happily and lovingly, thrilled to be a part of His gospel.
About Terrie Lynn Bittner
The late Terrie Lynn Bittner—beloved wife, mother, grandmother, and friend—was the author of two homeschooling books and numerous articles, including several that appeared in Latter-day Saint magazines. She became a member of the Church at the age of 17 and began sharing her faith online in 1992.