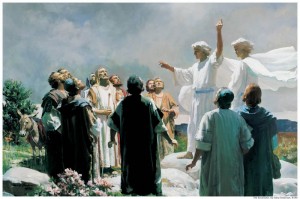 Mormon beliefs teach that life on earth is the center point of a three-part life. The first part takes place with God prior to our birth, where we lived as spirits and learned to love God and His gospel. Then we agreed to come to earth to gain bodies, families, and experiences, and to be tested. Death is only a transition that allows us to return to the place we started, back with God and Jesus Christ. Following are stories and thoughts from Thomas Monson, the Mormon prophet, on the subject of death.
A Child's Faith
Some years ago, the Salt Lake City newspapers published an obituary notice of a close friend—a mother and wife taken by death in the prime of her life. I visited the mortuary and joined a host of persons gathered to express condolence to the distraught husband and motherless children. Suddenly the smallest child, Kelly, recognized me and took my hand in hers. "Come with me," she said, and she led me to the casket in which rested the body of her beloved mother. "I'm not crying, Brother Monson, and neither must you. My mommy told me many times about death and life with Heavenly Father. I belong to my mommy and my daddy. We'll all be together again." The words of the Psalmist echoed to my soul: "Out of the mouth of babes … hast thou ordained strength." (Ps. 8:2.)
Through tear-moistened eyes, I recognized a beautiful and faith-filled smile. For my young friend, whose tiny hand yet clasped mine, there would never be a hopeless dawn. Sustained by her unfailing testimony, knowing that life continues beyond the grave, she, her father, her brothers, her sisters, and indeed all who share this knowledge of divine truth can declare to the world: "Weeping may endure for a night, but joy cometh in the morning." (Ps. 30:5.)
With all the strength of my soul, I testify that God lives, that His Beloved Son is the firstfruits of the resurrection, that the gospel of Jesus Christ is that penetrating light that makes of every hopeless dawn a joyful morning.
Thomas S. Monson, "Hopeless Dawn—Joyful Morning," Ensign, Feb 1993, 2
The Resurrection of Jesus Christ Overcomes Death
My brothers and sisters, death eventually comes to all mankind. It comes to the aged as they walk on faltering feet. Its summons is heard by those who have scarcely reached midway in life's journey, and often it hushes the laughter of little children. Death is one fact that no one can escape or deny.
Frequently death comes as an intruder. It is an enemy that suddenly appears in the midst of life's feast, putting out its lights and gaiety. Death lays its heavy hand upon those dear to us and at times leaves us baffled and wondering. In certain situations, as in great suffering and illness, death comes as an angel of mercy. But for the most part, we think of it as the enemy of human happiness.
The darkness of death can ever be dispelled by the light of revealed truth. "I am the resurrection, and the life," spoke the Master. "He that believeth in me, though he were dead, yet shall he live: And whosoever liveth and believeth in me shall never die."
This reassurance—yes, even holy confirmation—of life beyond the grave could well provide the peace promised by the Savior when He assured His disciples: "Peace I leave with you, my peace I give unto you: not as the world giveth, give I unto you. Let not your heart be troubled, neither let it be afraid."
Out of the darkness and the horror of Calvary came the voice of the Lamb, saying, "Father, into thy hands I commend my spirit." And the dark was no longer dark, for He was with His Father. He had come from God, and to Him He had returned. So also those who walk with God in this earthly pilgrimage know from blessed experience that He will not abandon His children who trust in Him. In the night of death, His presence will be "better than [a] light and safer than a known way."
Thomas S. Monson, "Now Is the Time," Ensign, Nov 2001, 59
An Atheist Gains Faith in God
Robert Blatchford, in his book God and My Neighbor, attacked with vigor the accepted Christian beliefs, such as God, Christ, prayer, and immortality. He boldly asserted: "I claim to have proved everything I set out to prove so fully and decisively that no Christian, however great or able he may be, can answer my arguments or shake my case." He surrounded himself with a wall of skepticism. Then a surprising thing happened. His wall suddenly crumbled to dust. He was left exposed and undefended. Slowly he began to feel his way back to the faith he had scorned and ridiculed. What had caused this profound change in his outlook? His wife died. With a broken heart, he went into the room where all that was mortal of her lay. He looked again at the face he loved so well. Coming out, he said to a friend: "It is she and yet it is not she. Everything has changed. Something that was there before is taken away. She is not the same. What can be gone if it be not the soul?"
Later he wrote: "Death is not what some people imagine. It is only like going into another room. In that other room we shall find … the dear women and men and the sweet children we have loved and lost." (God and My Neighbor, Chicago: Charles H. Kerr and Co.)
Thomas S. Monson, "'I Know That My Redeemer Lives'," Ensign, Apr 1990, 2
Make Life Matter—Serve Others
How fragile life, how certain death. We do not know when we will be required to leave this mortal existence. And so I ask, "What are we doing with today?" If we live only for tomorrow, we'll eventually have a lot of empty yesterdays. Have we been guilty of declaring, "I've been thinking about making some course corrections in my life. I plan to take the first step—tomorrow"? With such thinking, tomorrow is forever. Such tomorrows rarely come unless we do something about them today. As the familiar hymn teaches:
There are chances for work all around just now,
Opportunities right in our way.
Do not let them pass by, saying, "Sometime I'll try,"
But go and do something today.
Let us ask ourselves the questions: "Have I done any good in the world today? Have I helped anyone in need?" What a formula for happiness! What a prescription for contentment, for inner peace—to have inspired gratitude in another human being.
Our opportunities to give of ourselves are indeed limitless, but they are also perishable. There are hearts to gladden. There are kind words to say. There are gifts to be given. There are deeds to be done. There are souls to be saved.
Thomas S. Monson, "May We So Live," Ensign, Aug 2008, 4–9