The job of a prophet is not to replace Jesus Christ, but to lead people to Him.
Joseph Smith was the first prophet in The Church of Jesus Christ of Latter-day Saints, whose members are often referred to as Mormons. He was a prophet in the same way Noah and Moses were prophets in their time and Mormons view him and other prophets in the same way. They don't worship him or put him above Jesus. He is a messenger, sent to testify of Jesus Christ and deliver messages from God that apply to our times.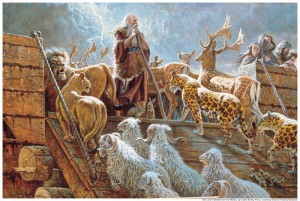 Noah delivered God's message of repentance and warned the people of a flood that would kill those who did not repent. It was a message only for that time, since God no longer floods the entire earth when people don't repent. Had there not been a prophet at that time, no one would have received the message. In other times, other prophets have delivered different messages, such as John the Baptist's message that Jesus had been born and would soon begin his ministry.
Mormons put their faith in Jesus Christ, but they also trust their prophets. God has taught us repeatedly to do so.
22 For Moses truly said unto the fathers, A prophet shall the Lord your God raise up unto you of your brethren, like unto me; him shall ye hear in all things whatsoever he shall say unto you.

23 And it shall come to pass, that every soul, which will not hear that prophet, shall be destroyed from among the people.

24 Yea, and all the prophets from Samuel and those that follow after, as many as have spoken, have likewise foretold of these days (Acts 3, King James version of the Bible).
Joseph Smith was the first prophet after an unusually long period of apostasy. Just as God sent prophets to help His children prepare for the first coming of Christ, He loves His modern day children enough to send prophets to prepare them for the second coming. While we have the words of the previous prophets, times change and today we have questions and challenges that were not even around in the days of the first prophets. God needs a way to send us direct revelation concerning these new challenges and to remind us of the commandments already taught.
All Christians believe in prophets. We know about God and Jesus only through the teachings of the prophets. Christians don't replace God with the prophets, but they do make use of what is taught by them. After all, they weren't there when Jesus was on the earth and Jesus wrote nothing Himself, at least nothing that has come down to us. Everything we know about God and Jesus comes to us through the words of the prophets. We treat those words with respect and devour them in our search to know more about the Savior.
Does it seem so odd that God is talking to us again today? Mormons don't believe God is incapable of continuing to speak to His children, nor do they believe He is so uninvolved and so caring He would leave us floundering as we prepare for the critical Second Coming. There are thousands and thousands of churches teaching conflicting information on what God wants us to do, all claiming to get their information from the same book, but interpreting it in different ways. Sending a prophet to us was a great act of love, and proof of God's continuing involvement in our lives.
Joseph Smith was the first prophet of modern times. When he died, Brigham Young became the prophet. There has been a continuing progression of prophets to guide us, just as prophets came to guide the Jewish people through the process of preparing for Christ's coming.
The job of a prophet is not to replace Jesus Christ, but to lead people to Him.