Surrounded by the family who loved her, Frances Beverly Johnson Monson, the devoted and dedicated wife of Thomas S. Monson, President and Prophet of The Church of Jesus Christ of Latter-day Saints, passed away at 6:35 AM on Friday morning, 17 May 2013, in a Salt Lake City, Utah hospital. She was 85 years young. An LDS Church news release stated, "She had been hospitalized for several weeks and passed away peacefully of causes incident to age." [1]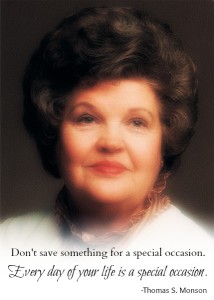 Sister Monson Was Endeared by Her Family
President and Sister Monson were married for 64 years. In October 2013 they would have celebrated 65 years of marriage. They have three children – Thomas Lee, Ann Frances, and Clark Spencer. Making mention of her in his biography titled To the Rescue, President Monson stated, "If there was ever a heroine in my life, it would have to be Frances." [2] The LDS Church news release stated that President Monson recognized his companion as the family's "beacon of love, compassion and encouragement." [1] Again in his biography, President Monson further commented, "I am so grateful for my mother-in-law. She brought into the world a lovely daughter who is my wife and companion, who I can assure you is her husband's keeper, and the keeper of her children as well — a noble daughter of our Heavenly Father." [2]
Ann Monson Dibb, the only daughter of President and Sister Monson, once made a comment in an Ensign article titled President Thomas S. Monson: Finishing the Course, Keeping the Faith about her mother that could now serve as an appropriate tribute as she recalled the true character of one of Heavenly Father's special daughters:
My mother is unlike many of the women of today's generation. Instead of looking for the recognition of the world, she has always received her acknowledgment of worth from such things as the happy smile of a son or the outstretched hand of a grandchild. President Wilford Woodruff once said that the mother has greater influence over her posterity than any other person can have, and her influence is felt through time and eternity. I am grateful to my mother, thankful for her influence and pray that I might always be worthy of her love. As I reflect upon the many blessings which I have received as the daughter of an apostle of the Lord, the one which means the most to me is the gift and blessing of the woman he married, my mother."  [3]
In a recent YouTube video posted on Friday, 17 May 2013, by LDS Public Affairs, Ann Dibb Monson remarks that a person could not know her mother without her father, and a person could not know her father without her mother. They made each other complete. Ann further comments that this became even more evident during her father's visits to her mother's hospital room during the past 6 and a half weeks.
A Life of Dedication and Devotion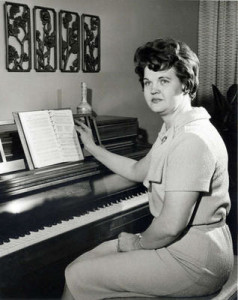 Frances Beverley Johnson was born on 27 October 1927, to Franz Emanuel Johnson and Hildur Augusta Booth Johnson. She was the youngest, and only daughter of 5 children, and was named after her father. She grew up in Salt Lake City, Utah during the days of the Great Depression. The date of her death, 17 May, would have been the birthday of her father, as well as, the birthday of President Monson's father. She was born of Swedish descent.
She attended Emerson Elementary School, and was a graduate of East High School in Salt Lake City, Utah. She became proficient in both playing tennis and playing the piano in her teenage years. Following high school, she studied math and science at the University of Utah, and worked at the Deseret News in the accounting department at a local department store to help pay the cost of her education. While she was attending the University, she met, and fell in love with a young man, Thomas S. Monson, who would become her eternal companion. Her father, Franz, felt an immediate connection with young Thomas Monson because Monson's great uncle had baptized him into the Church of Jesus Christ of Latter-day Saints in Sweden. Thomas Spencer Monson and Frances Beverley Johnson were married for all time and eternity in the Salt Lake City, Utah Temple on 7 October 1948. He was 21 years of age, and she was 20.
As a devout member of The Church of Jesus Christ, Sister Monson had a keen understanding of the meaning of service. She served in the Relief Society and Primary. "She also earned the church's Golden Gleaner award, part of a now-discontinued program for 18-to-30-year-old single church members, by meeting a rigorous set of requirements for church activity and self-improvement." [3] She also served with President Monson in the LDS Canadian Mission, headquartered in Toronto, Ontario.
The LDS Church news release further stated that, "Sister Monson lived a Christ-centered life in word and deed. She will forever be remembered for her kindness and quiet, sustained support of her husband in his Church duties." [1]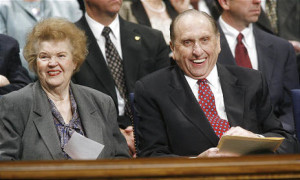 A Loving Legacy Left to Her Family
Frances Beverley Johnson Monson will always be remembered as a woman who had a heart full of compassion, was patient and understanding, always had words of encouragement to share, and loved the Savior. She was always by her eternal companion's side and supported him in all of his many Church callings throughout the years. "My mother is the other part of my father's success story because she has been supportive of him in everything he's done," Sister Dibb (Ann Monson Dibb, daughter of President and Sister Monson) said. [2]
As the matriarch of the Monson home, she nurtured each of her three children in the admonition of the Lord. She clearly understood the words of Solomon, "Train up a child in the way he should go: and when he is old, he will not depart from it" (Proverbs 22:26.) Perhaps one of the guiding principles from the scriptures that she used in the rearing of her children, and instilled in each of them, is also found in the wise words of Solomon, "In all thy ways acknowledge him, and he shall direct thy paths" (Proverbs 3:6.) As her children now, and in the days ahead, reflect upon the love that this remarkable woman gave to each of them, and the lessons that she taught them, will be able to say with surety, "We do not doubt our mother knew it" (see Alma 56:48, Book of Mormon.)
About Keith L. Brown
Keith L. Brown is a convert to The Church of Jesus Christ of Latter-day Saints, having been born and raised Baptist. He was studying to be a Baptist minister at the time of his conversion to the LDS faith. He was baptized on 10 March 1998 in Reykjavik, Iceland while serving on active duty in the United States Navy in Keflavic, Iceland. He currently serves as the First Assistant to the High Priest Group for the Annapolis, Maryland Ward. He is a 30-year honorably retired United States Navy Veteran.